Harmonic Filter
Various semiconductor devices are now commonly used in factories and buildings since semiconductors have been making remarkable progress. Hereby, harmonics generate from semiconductor devices and cause equipment damages.
Shizuki harmonic restraint devices can solve harmonic troubles.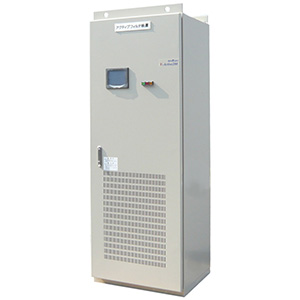 V-Active Series
Active filters which solve troubles caused by harmonics.
FEATURES
1.

Space saving


This device has smaller occupied area and volume than conventional products.
2.

Low loss


Compared to conventional products, this device has low losses during rated operation.
3.

Low maintenance cost


Maintenance costs have been lowered by adopting long life fans, weight saving of replacement units, etc.
4.

High compensation rate


The compensation rate does not decrease even if the power supply frequency fluctuates. Stable harmonic suppression is possible.
5.

Current limit function


This device can continue while limiting the output current of the device even if harmonic current larger than the load occurs.
6.

Extensive Achievements


This device has been used in many fields since its launch.
OPERATING CONDITIONS
| | |
| --- | --- |
| Installation location | Indoor or Outdoor |
| Ambient temperature | -5℃ to +40℃ |
TYPE AND RATINGS
Type
V-Active200
V-Active400
V-Active6600
Rated voltage
200,210,220V
400,420,440V
6600V
Compensation
apacity
10~500kVA
10~500kVA
50~1000kVA
Rated frequency
50Hz or 60Hz (±5Hz : Follow up control of frequency fluctuation.)
Phase
3 phase